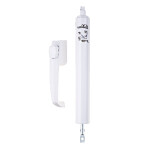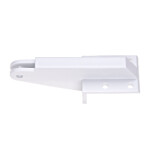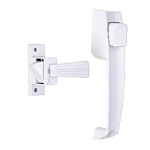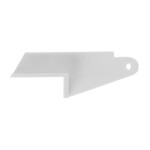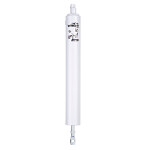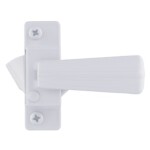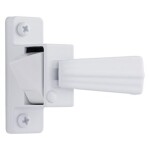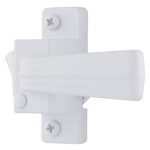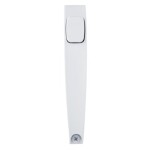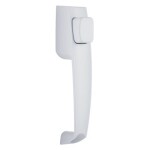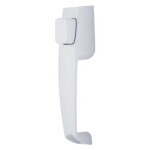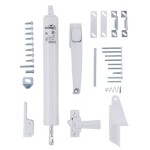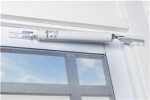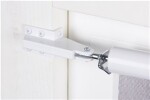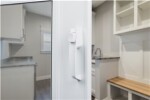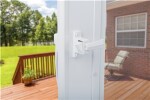 Lanai Corrosion Resistant Hardware Kit
White, 1 Pack
SKU
VLANWH
FULL DOOR KIT: Lanai door hardware kit is designed for out-swinging light-to-medium weight storm, home, or security doors 3/4"-1 1/4" thick. Includes one V333 push button door latch, one V1020 pneumatic door closer, and one FJBWH Lanai door jamb bracket.
SETUP: Each pneumatic door closer measures 12-5/8" long (unextended) and 1-1/2" in diameter. Use a single pneumatic closer for light to medium weighted doors or paired (one on top and one at the bottom) for heavier storm and screen doors. The door latch features "No Lock Out" technology, eliminating the worry of accidentally locking yourself out.
CONTROLLED CLOSING: The fully lubricated spring stretches to allow the door to open a full 90 degrees before it pulls the door closed at a controlled pace. By using air within the pneumatic tube to cushion the force of the door, it prevents it from slamming and preserves the life of the closer, the door and the door frame. External spring helps prevent rod overextension on each open and close.
READY TO INSTALL: All installation hardware is included, no additional parts need to be ordered or added. Door latch installs in three 5/16" holes and contains two sizes of strike plates and shims to provide adjustment for varying backsets. The latch also has a mounting hole with 1 3/4" spacing.
CLEAN SUBTLE LOOK: Door latch, pneumatic tube and door jamb attachments come in a high-quality finish to blend in perfectly with the door and frame.
Open a Support Ticket
Warranty Information
Product Information
Wright Products Lanai Door and Repair Kit in white finish. Kit includes one (1) standard push button handle, one (1) specialty closer for Lanai enclosures, one (1) Florida jamb bracket and screws. Ideal for out-swinging doors, ¾ in. - 1-1/4 in. thick.
| | |
| --- | --- |
| Status | Active |
| SKU | VLANWH |
| UPC | 038462041040 |
| Brand | Wright Products |
| Fineline | Hardware Sets |
Warranty
FULL ONE YEAR WARRANTY - This product is warranted by Hampton Products International ("HPI") to the original consumer purchaser against defects in material and workmanship under normal use and service for one year from the date of purchase. This warranty does not apply to product: used in commercial or common area applications; used for purposes for which it was not designed or intended; or which has been abused, misused, modified, or improperly installed, operated, maintained, and/or repaired. This warranty does not cover scratches, abrasions, or deterioration due to the use of paints, solvents, or other chemicals. HPI IS NOT LIABLE FOR INCIDENTAL, INDIRECT, OR CONSEQUENTIAL DAMAGES. Some states do not allow the exclusion or limitation of incidental or consequential damages, so the above limitation or exclusion may not apply to you. This warranty gives you specific legal rights, and you may also have other rights which vary from state to state. To make a warranty claim for repair or replacement, visit www.hampton.care or contact Hampton Care at 1-800-562-5625. Return of defective product and receipt may be required for warranty claims.
Garantía Total por Un Año - Este producto está garantizado para el usuario consumidor original por Hampton Products International ("HPI") de no tener defectos en materiales y mano de obra bajo uso y servicio normal durante un año a partir de la fecha de compra. Esta garantía no aplica al producto: utilizado en aplicaciones comerciales o en áreas de uso común o público; utilizado para objetivos para el que no fue diseñado o destinado; o que sufre abuso, mal uso, es modificado o instalado, accionado, mantenido y/o es reparado incorrectamente. Esta garantía no cubre rayaduras, abrasiones o deterioros debido al uso de pinturas, solventes u otros químicos. HPI ESTÁ LIBRE DE RESPONSABILIDAD ALGUNA POR DAÑOS INCIDENTALES, INDIRECTOS O EMERGENTES. Algunos estados no permiten la exclusión o limitación de daños incidentales o emergentes, por lo que la exclusión anterior puede no ser aplicable a usted. Esta garantía le proporciona a usted derechos legales específicos y usted podrá tener otros derechos que varían de estado a estado. Para hacer un reclamo de reparación o de reemplazo bajo la garantía, sírvase acceder a nuestro sitio Web: www,hampton.care, o contacte a Hampton Care al teléfono 1-800-562-5625. Para reclamos bajo la garantía podrá requerirse el retorno del producto defectuoso y del recibo.
Garantie TOTALE d'un an - Ce produit est garanti par Hampton Products International («HPI») comme étant dépourvu de vices de fabrication et de main d'œuvre, dans des conditions normales d'utilisation et de service, pour une durée d'un an à compter de la date d'achat. Cette garantie est consentie à l'acheteur initial de ce produit. Cette garantie est nulle et non avenue si le produit : a été utilisé dans des applications commerciales ou dans des parties communes ; à des fins pour lesquelles il n'a pas été conçu ou prévu ; s'il a subi des abus, s'il a été mal utilisé ou modifié, ou s'il a été incorrectement installé, utilisé, entretenu et/ou réparé. Cette garantie ne couvre pas les rayures, abrasions ou détériorations dues à l'utilisation de peintures, solvants ou autres produits chimiques. LA RESPONSABILITÉ DE HPI NE PEUT ÊTRE ENGAGÉE POUR DES DOMMAGES INDIRECTS QUELS QU'ILS SOIENT. Certains états ou provinces ne permettent pas l'exclusion ou la limitation des dommages indirects et il est possible que les limites ou l'exclusion ci-dessus ne vous soient pas applicables. Cette garantie vous confère des droits spécifiques et il est possible que vous déteniez d'autres droits variant d'un état ou d'une province à l'autre. Pour une réclamation de réparation ou de remplacement contre la garantie, aller sur notre site Internet www.hampton.care ou contacter Hampton Care par téléphone, au 1-800-562-5625. Le retour du produit défectueux et une preuve d'achat peuvent être demandés pour faire jouer la garantie.