Heavy Duty All-In-One Commercial Door Closer
| | |
| --- | --- |
| Item Number | UH4061 |
| Product Type | Commercial Closer |
| Product Description | See below |
View item at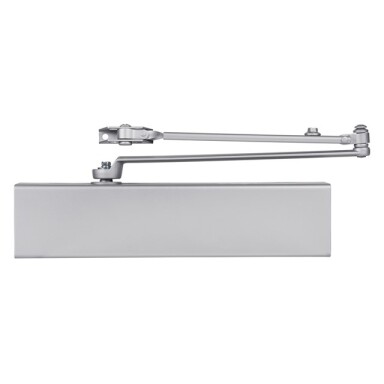 The UH4061 (Aluminum) and UH4062 (Bronze) closer is designed to replace most closer applications that exist in the door closer industry. Packaged with a mounting plate that is prepared to allow the installer ease of installation by aligning the plate with the existing door preparation. The adjustable spring tension powers this closers from a Size 1 to a Size 6 (which allows for power adjustment for light to very heavy applications). This closer is available in Aluminum and Bronze finish.
Adjustable Size 1 to 6 Closer
ANSI Grade 1
ADA compliant
Adjustable Closing, Latching and Backcheck speed
For Exterior Doors up to 48"
For Interior Doors up to 60"
Standard, Top Jamb and Parallel mounting applications
Universal Mounting Plate allows for easy replacement of most defective closers
Didn't find the item or help you need?
Open a Warranty or Technical Support Ticket
Call us
(800) 562-5625
We are here
Monday - Friday
8:00am - 4:00pm Pacific
Hold times can vary based on call volume, but even when we are tied up on the phone, we check our email – so please consider filling out the online form. We'll have all your information and if we need more, we'll contact you right away. You'll also get a receipt with a ticket number for tracking. We promise to address your inquiry within the next business day; often we can help you right away.