Universal Hardware Heavy Duty Residential Closer, Brown Finish
| | |
| --- | --- |
| Item Number | UH4014 |
| Product Type | Residential Closer |
| Product Description | See below |
View item at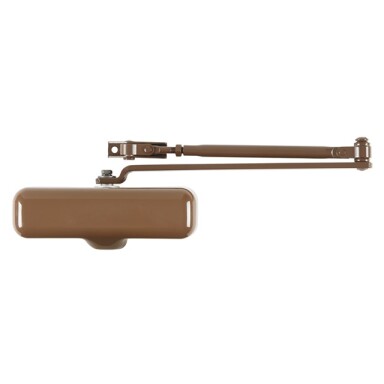 The Universal Hardware Residential Closer regulate the traffic in and out of your space and automatically close door after every opening. It controls the closing and latching of doors to eliminate slamming and add security and safety. Best suited for interior and exterior residential door applications. This closer is a size 3. It has a 155 degree opening range and an adjustable closing speed. It can be mounted in a standard or top jamb position. It has a 3 hour UL fire rating and is ADA compliant.
Size 3
Standard or Top Jamb mounting applications
Adjustable Closing and Latching speed
155 degree opening range
For Interior Doors 34" to 38"
For Exterior Doors 24" to 30"
Open a warranty or technical support ticket
Use this form for both warranty replacement requests and for technical support.
We respond same day in most cases.
Attach a picture or find your item in our catalog to assist us in serving you quicker.