Heavy Duty Commercial Privacy Knob
| | |
| --- | --- |
| Item Number | UH40042 |
| Product Type | Privacy |
| Product Description | See below |
View item at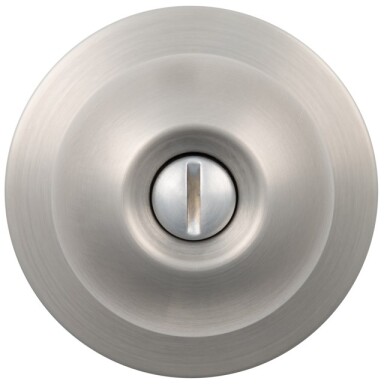 The privacy function is for doors that need to be locked/unlocked from the inside with a push button and unlocked from the outside by the emergency release, by turning the inside knob or closing the door. Constructed with a robust cylindrical locking mechanism, this lock is designed for heavy use doors. It is extremely robust mechanically and has a durable finish. This lock is also versatile and can fit doors from 1 3/8" to 2" thick for commercial and residential use. It is UL listed for 3 hour doors. It meets or exceeds ANSI Grade 2 standards.
3 Strike plates – T-Strike, ASA and full lip
Fits 1 3/8" to 2" thick doors
Fixed 2 ¾" backset
Corrosion resistant steel
Non-handed, completely reversible
Stainless steel latch bolt with ½" projection
3" Diameter rose
Didn't find the item or help you need?
Open a Warranty or Technical Support Ticket
Call us
(800) 562-5625
We are here
Monday - Friday
8:00am - 4:00pm Pacific
Hold times can vary based on call volume, but even when we are tied up on the phone, we check our email – so please consider filling out the online form. We'll have all your information and if we need more, we'll contact you right away. You'll also get a receipt with a ticket number for tracking. We promise to address your inquiry within the next business day; often we can help you right away.