15' Tow Strap, 5000 lbs. Max Vehicle Wt.
| | |
| --- | --- |
| Item Number | 89815 |
| Product Description | See below |
Keeper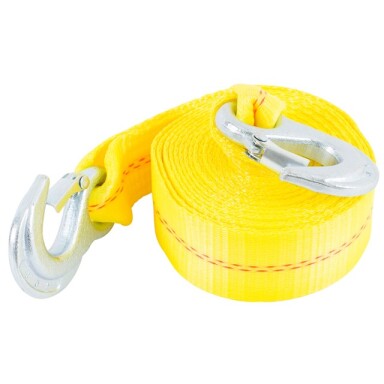 KEEPER® Tow Straps are performance engineered to deliver the perfect solution for all your towing needs. Hi-Test® webbing will never rot or mildew and provide a lightweight solution for easy, compact storage impossible to achieve with a chain. The zinc-plated, forged hooks will not rust, are secure and reliable in every situation. Attach spring latches effortlessly to vehicle frames in emergency situations when strength and speed are essential. With the abrasion resistance and higher tension capacities, it allows KEEPER® tow straps to resist breakage and remain dependable under the most demanding conditions. Our 2" x 15' Tow Strap has a webbing capacity of 12,000 lbs. with a max vehicle weight of 5,000 lbs. Most compatible with full-sized cars or light trucks.
5,000 lbs Max Vehicle Weight
15' Tow Strap
2" Hi-Test® Webbing
Forged Steel Slip Hook w/Latch
Didn't find the item or help you need?
Open a Warranty or Technical Support Ticket
Call us
(800) 562-5625
We are here
Monday - Friday
8:00am - 4:00pm Pacific
Hold times can vary based on call volume, but even when we are tied up on the phone, we check our email – so please consider filling out the online form. We'll have all your information and if we need more, we'll contact you right away. You'll also get a receipt with a ticket number for tracking. We promise to address your inquiry within the next business day; often we can help you right away.