Brinks 180-Degree Dual Head Motion Activated Security Light, Bronze Finish
| | |
| --- | --- |
| Item Number | 7141B |
| Product Description | See below |
| Patents | 7985017 |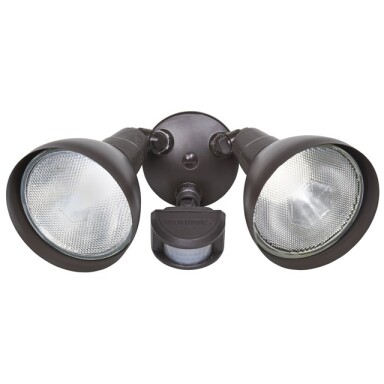 Keep key areas well-lit with the Brink's Motion Activated Security Light. This powerful light is designed to keep the perimeter of homes and businesses safe and help deter unwanted visitors. It emits the perfect amount of light to brighten the entryway for easy accessibility and security The dual head motion activated light senses motion up to 70-feet within a 180-degree range, picking up movement quickly and activating the two floodlights for bright illumination. The two lamp heads can be tilted and adjusted to different areas for optimal performance. The 180-degree motion activated security light can be placed over doors, back porches and patios, shed doors and under eaves and even awnings for effortless lighting. As a global leader in security-related products and services, the Brink's name is synonymous with top quality merchandise, 'A Trusted Name in Security since 1859' ™.
Ideal for exterior residential applications
Great for entryways, back porches, patios, shed doors, above garages, under eaves etc
Adjustable lamp heads and sensor
Passive infrared motion sensor
Mount to surface, wall or eave
Uses two (2) 120W max PAR 38 bulbs (sold separately)
Easy installation, hardwire requiring
Open a warranty of technical support ticket
Use this form for both warranty replacement requests and for technical support.
We respond same day in most cases.
Attach a picture or find your item in our catalog to assist us in serving you quicker.