12' Industrial Ratchet Tie-Dn, C-Grip, 1,000 lbs. WLL 3,000
| | |
| --- | --- |
| Item Number | 45545 |
| Product Description | See below |
Keeper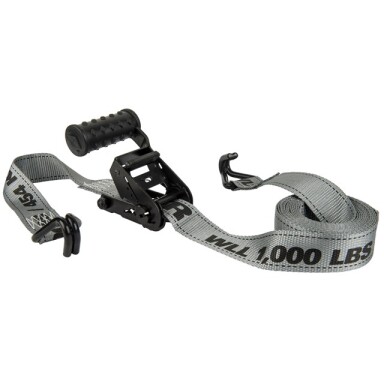 KEEPER® Performance Engineered® 12' x 1-1/2" Diamond Series ProGrade ratchet tie-downs meet the requirements of heavy cargo transport. Designed to withstand heavier loads and more demanding conditions, ProGrade tie-downs provide unsurpassed strength and reliability for a range of applications. With a working load limit of 1000 lbs. and 3000 lbs. break strength, these tie-downs also deliver wider webbing and comfortable molded rubber grip handles. Heavy duty vinyl-coated Double J-Hooks attach quickly, and ProGrade extended short ends reach in-bed anchors for added security. Diamond Grip™ C-Grip ratchets are easy to grab and provide maximum tension that holds even in unpredictable situations, making Diamond Series ProGrade ratchet tie-downs the ultimate dependable cargo solution.
1000 lbs. Working Load Limit
3000 lbs. Break Strength
12' Ratchet Tie Down
C-Grip Ratchet Handle
Didn't find the item or help you need?
Open a Warranty or Technical Support Ticket
Call us
(800) 562-5625
We are here
Monday - Friday
8:00am - 4:00pm Pacific
Hold times can vary based on call volume, but even when we are tied up on the phone, we check our email – so please consider filling out the online form. We'll have all your information and if we need more, we'll contact you right away. You'll also get a receipt with a ticket number for tracking. We promise to address your inquiry within the next business day; often we can help you right away.