Keeper 27' Heavy-Duty Ratchet Tie-Down
| | |
| --- | --- |
| Item Number | 04622 |
| Product Description | See below |
Keeper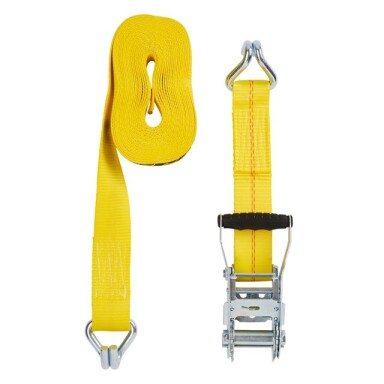 The Keeper® 27 ft. Heavy Duty Ratchet Tie-Down features an abrasion resistant 2 in. Hi-Test® webbing to secure cargo and absorb shock during transportation. It is constructed with a steel ratchet, open molded handle, and double J-hooks. To engage attach the hook to an anchor point, pull webbing over the cargo load and tug to desired tension. Ratchet by raising and lowering the handle to cargo into place.
3,333 lbs. Working load limit
2" Hi-Test® webbing
Open molded ratchet handle
Great for securing cargo and equipment to vehicle
Open a warranty or technical support ticket
Use this form for both warranty replacement requests and for technical support.
We respond same day in most cases.
Attach a picture or find your item in our catalog to assist us in serving you quicker.