| | |
| --- | --- |
| Item Number | 03715 |
| Product Description | See below |
Keeper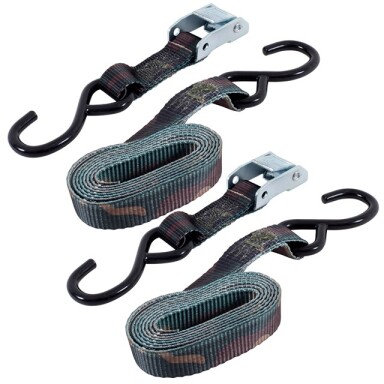 KEEPER® Motorcycle Tie-Downs are specially designed to provide superior protection for motorcycles and ATVs, even under demanding conditions. Fabricated from KEEPER® Hi-Test® webbing, these tie-downs are abrasion resistant and remain durable even after repeated usage. With a 400 lbs. working load limit and 1,200 lbs. break strength, motorcycle tie-downs are perfect for use with a range of different vehicles, including full size motorcycles. Tough cam buckles grip the webbing without prematurely damaging the tie-down, and a quick-release thumb button makes them easy to use. Full-size vinyl-coated S-hooks attach securely, ensuring outstanding performance when transporting your motorcycle or ATV.
400 lbs Working Load Limit
1,200 lbs Break Strength
6' Cam Buckle Tie-Down
1" Hi-Test® Woodland Camo Webbing
Full size, nonmarring vinyl coated S-hooks
Didn't find the item or help you need?
Open a Warranty or Technical Support Ticket
Call us
(800) 562-5625
We are here
Monday - Friday
8:00am - 4:00pm Pacific
Hold times can vary based on call volume, but even when we are tied up on the phone, we check our email – so please consider filling out the online form. We'll have all your information and if we need more, we'll contact you right away. You'll also get a receipt with a ticket number for tracking. We promise to address your inquiry within the next business day; often we can help you right away.