Tie-Down Pro Grade Plus 12'x1.25"C-Grip Desert Camo2Pk
| | |
| --- | --- |
| Item Number | 03547 |
| Product Description | See below |
Keeper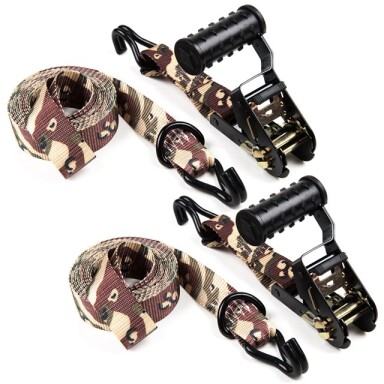 KEEPER® tie-downs are designed to fit the application, so you have the right tool to meet your needs. Ratchet tie-downs with C-Grip Diamond Grip™ handles secure your cargo with maximum tension and minimum force, perfect for situations when you need proven dependability. These tie-downs are perfect for ATVs, hunting, fishing, and camping. The spring-loaded release mechanism guards against accidental release, combining safety with performance. With a 1000 lbs. load limit and 3000 lbs. break strength, Hi-Test® 1 1/4 in. webbing provides outstanding strength and withstands even the toughest applications. The webbing resists abrasion and the full size, non-marring vinyl coated J-hooks won't rust, so you can rely on KEEPER® ratchet tie-downs to meet or exceed your light cargo needs.
1,000 lbs Working Load Limit
3,000 lbs Break Strength
12' Diamond Grip (TM) Ratchet Tie-Down
1 1/4" Hi-Test® Desert Camo Webbing
Open a warranty or technical support ticket
Use this form for both warranty replacement requests and for technical support.
We respond same day in most cases.
Attach a picture or find your item in our catalog to assist us in serving you quicker.